Toyota Camry vs Nissan Altima


Deciding between multiple models is part of the fun when car shopping near Amherst, Manchester, and Derry, NH. Seeing how different vehicles stack up in terms of performance, efficiency, and space sheds light on which model is right for you. The Toyota Camry vs. Nissan Altima debate is a good one, for example. How can you begin to separate these worthwhile competitors? At Ira Toyota of Manchester, we made the comparison easy by listing key specifications side by side.
After breezing through our Toyota Camry vs. Nissan Altima comparison, you'll understand where each of these cars ranks in their respective segments! Learn more below or check out our current Toyota Camry inventory online.
Camry vs Altima: Which Car Offers More Performance?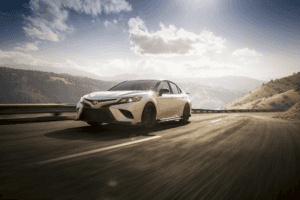 Having the option to move up to a fun, high-output engine can often be the deciding factor when car shopping. If performance is on the short list of qualities you want in your next sedan, the Toyota Camry sees a noticeable edge over the Nissan Altima.
A good way to measure performance is horsepower. For the Altima, you can upgrade to a 2.0L turbo 4-cylinder motor that boasts 248 horsepower. That figure is more than enough for around-town travel, but doesn't provide the visceral thrill that comes from the 3.5L 6-cylinder motor of the Camry. With the popping 6-cylinder engine under the hood, your Toyota touts 301 horsepower!
Camry vs Altima: Which Car Is More Efficient?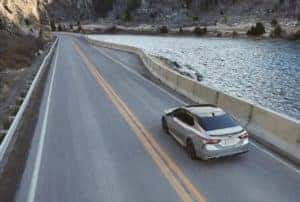 Another key aspect of your car's performance will be the fuel economy. For commutes to work, long road trips, and any other type of driving, you'll find the Toyota Camry to be the more efficient option when pitted against the Altima.
The 2020 Toyota Camry gets the edge because of a hybrid 2.5L 4-cylinder engine that returns a favorable EPA-estimated fuel economy rating of 44 city/47 highway MPG in the Hybrid SE and Hybrid XLE trims.1
On the other hand, the Nissan Altima doesn't offer a hybrid motor. So, a good option when seeking fuel economy in the Altima is choosing the standard 2.5L motor, which returns an EPA-estimated 28 city/39 highway MPG.
Camry vs Altima: Which Car Has a Roomier Cabin?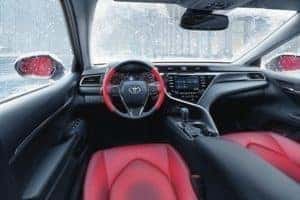 If you're after the compact proportions of a midsize sedan, cabin dimensions such as headroom and legroom need to be factored in. Part of having a comfortable ride is having enough room to stretch out. With car-pooling buddies or your children fastened into the back row, the Toyota Camry is going to be far more comfortable than the Nissan Altima.
Passengers seated in the second row of the Camry can stretch out, thanks to 38 inches of legroom and 38 inches of headroom. Trips are more cramped in the Altima, which provides just 35.2 inches of rear legroom and 36.9 inches of rear headroom.
In the End, the Toyota Camry Is the Savvy Choice
While the Toyota Camry vs. Nissan Altima comparison appears pretty even from a glance, a deep dive into the specifications sees a significant edge for the Camry.
Whether performance, efficiency, or cabin space is the priority for your next trips around Amherst, Derry, or Manchester, New Hampshire, the Camry is the savvy call. To test out the car, come by Ira Toyota of Manchester or contact us today!
2020 EPA-estimated 29 city/41 hwy/34 combined MPG for Camry L; 28 city/39 hwy/32 combined MPG for LE, SE, SE Nightshade; 27 city/38 hwy/31 combined MPG for XLE 4-cylinder and XSE 4-cylinder; 22 city/33 hwy/26 combined MPG for XLE V6; 22 city/32 hwy/26 combined MPG for XSE V6; 21 city/31 hwy/25 combined MPG for TRD; 51 city/53 hwy/52 combined MPG for Hybrid LE; and 44 city/47 hwy/46 combined MPG for Hybrid SE and Hybrid XLE. Actual mileage will vary.