Brake Repair near Me

Sometimes the unexpected happens with your brakes. Luckily, you've got us here at Ira Toyota of Manchester to prevent a faulty braking system.
Regardless of where you live in Massachusetts, you can count on us to get the job done. Contact us to schedule an appointment Give our service center a call at 603-657-2323 today! .
Our Educational Guide Guides:
How Do I Know When My Brakes Need Repair?
There are a few ways to tell when it's time for some brake repairs:
If you smell something burning while you're driving, it might mean that your brakes need help!
If you hear any grinding, screeching, or squealing noises, we'd recommend giving us a quick call.
You notice that you're pressing down the brake pedal further than usual for the same result.
If you can't remember the last time that you had your brakes serviced, that might be a sign.
And last, but certainly not least, your car's brake warning light is certainly a dead giveaway!
Our Expert Service Team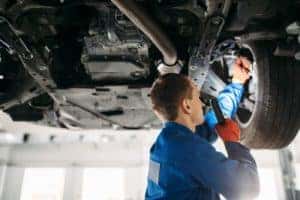 Here's the good news: The members of our team of brake specialists are well-versed in disc brakes, drum brakes, emergency brakes, intelligent brakes, anti-lock brakes, parking brakes, and just about any other brakes out there!
Now, here's the great news: They'll always carry out their work with a professional demeanor! What exactly does this mean? It means that you can expect the best in courtesy, efficiency, and results.
Schedule a Brake Repair Appointment Today!
If you live around Derry, Bedford, or Amherst, then our Ira Toyota of Manchester Service Department is just a short drive up the road! Otherwise, you can call us on the phone or set something up on our site.
Finally, here's the incredible news: Our guys and gals are also wizards when it comes to painting, body repairs, transmissions, windshields, tires, and just about anything else Toyota-related.
Our Reviews:
---