2020 Toyota GR Supra Review for Sale in Manchester, NH

It's impossible to keep from grinning when you drive a sports car around the winding roads in Manchester, and around Derry and Amherst. The Toyota GR Supra is one model that delivers endless enjoyment whether you're cornering a turn at high speed or are darting away from a green light. How does the Toyota model deliver such excitement? You can find out by reading our 2020 Toyota GR Supra review.
Crafted by our insightful team at Ira Toyota of Manchester, the review will hit on key traits in the head-turning Toyota GR Supra such as performance, customizability, and style.
2020 Toyota GR Supra Interior Review
Getting to Know the Toyota GR Supra Engine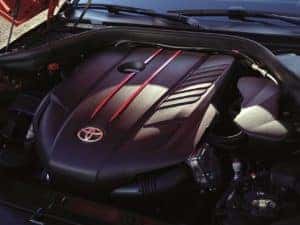 There's a single engine option when creating your Toyota GR Supra model. As you might expect given the racing nature of the vehicle, this engine is a doozy.
The 3.0L twin-scroll turbo 6-cylinder is able to generate 335 horsepower and 365 lb-ft of torque. To go from a standstill to 60 MPH, you'll only need 4.1 seconds.
The top speed peaks at an impressive 155 MPH. With launch control in place, each acceleration from a stop sign or stop light will feel like the beginning of a race.
Plenty of other worthwhile performance features are included such as:
8-speed automatic transmission with paddle shifters
Gear shifter with manual mode
Active rear sport differential
Active exhaust
Automatic engine start/stop
An Exterior Built for Style and Performance

The 2020 Toyota GR Supra has head-turning looks that are sure to garner attention on the open road. It's not all show, though. The exterior also has features that further boost its performance credentials.
A good example of the mixture between style and athleticism would be the tires. You can wrap high performance Michelin® Pilot® Super Sport summer tires around 19-inch forged-aluminum twin-spoke wheels with a matte-black finish.
The lighting setup is just as dazzling. The car includes 6-lens auto-leveling LED headlights, LED backup lights, and an LED front turn signal indicator.
Other noteworthy exterior garnishes include the built-in rear spoiler and the dual rear exhaust outlets with brushed stainless steel exhaust tips.
Selecting the 2020 Toyota GR Supra of Your Choice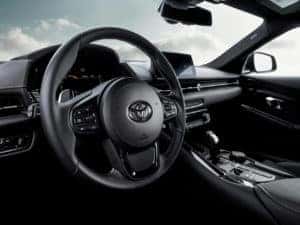 There are three unique trim levels that you can choose from when determining which Toyota GR Supra is right for your lifestyle.
The standard Toyota GR Supra 3.0 is a favored choice because it includes a long list of features such as a 6.5-inch touchscreen display and Bluetooth® wireless connectivity.
If you bump up to the 3.0 Premium trim level, you'll find the 12-speaker JBL® surround sound system and wireless charging tray.
Lastly, there's the fully-loaded 2020 Toyota GR Supra Launch Edition with supple Red leather-trimmed sports seats, among other inclusions.
Have a Laugh in the 2020 Toyota GR Supra
A smile will form as soon as you lean your foot on the gas pedal of the 2020 Toyota GR Supra.
To see just how dazzling the sports car is around the streets in Manchester, and around Derry and Amherst, contact Ira Toyota of Manchester!